Judenmission im Jüdischen Museum Berlin oder: wie jüdisch ist das Jüdische Museum?
Zum 60. Geburtstag des Staates Israel gibt es nicht wenige Veranstaltungen, auch oder gerade in Berlin. Am 4. Mai wird im Jüdischen Museum ein Konzert mit dem Pianisten Sam Rotman stattfinden. Dem Konzertplakat ist zu entnehmen, daß es sich um eine Kooperation des Jüdischen Museums, Beit Sar Shalom - jüdisch-messianische Dienste und Gemeinden (ist groß und deutlich zu lesen) sowie einer "European Initiative" handelt: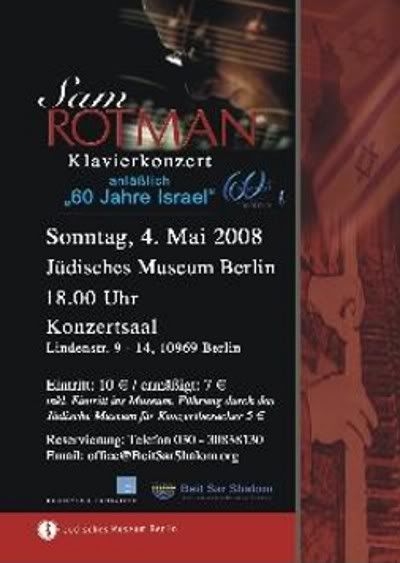 Auf der Website dieser "
European Initiative
" - für was auch immer - heißt es:
EI Brings Messianic Jewish Pianist to Berlin

European Initiative, along with Messianic Jewish congregation, Beit Sar Shalom is bringing Jewish pianist, Sam Rotman to Berlin on May 4, 2008. The event will coincide with the State of Israel's 60th Anniversary Celebration.

Mr. Rotman while raised Orthodox Jewish, came to faith in Yeshua, the Jewish Messiah. He will tell his fascinating story at the concert. His performance will feature an extensive repertoire of many classic piano pieces, composed by masters such as Beethoven, Schubert and Mozart. Mr. Rotman is considered to be one of the top 25 classical pianists in the world.

The concert will take place at the renowned Jewish Museum of Berlin. Generally, considered Europe's premier Jewish Museum, it is the perfect site to host Mr. Rotman's concert. The museum has won acclaim as an architectural marvel. It is seen by many as a significant part of Berlin culture and it plays an important role in the on going healing between the German and Jewish communities. Please see this link for more details on the remarkable museum.
.
Auch die
Homepage von Sam Rotman
spricht eine deutliche Sprache. Unter
"The Christian Testimony of Sam Rotman"
heißt es:
I give concerts at churches, schools, homes, and auditoriums, sharing my Christian story, and providing just another way for the missionaries and national Christians to reach their friends, neighbors, co-workers, and family with the Gospel.

Coming to know Jesus Christ The Messiah is the greatest event that has ever happened to me. Music is not the most important thing in my life, but Jesus Christ is. As I say at my concerts, I won't be playing the piano in a hundred years, or be married or be a father or have my profession. In a hundred years, the most important thing will be whether or not I have Jesus Christ. Jesus said, "For what does it profit a man to gain the whole world, and forfeit his soul? For what shall a man give in exchange for his soul? For whoever is ashamed of Me and My words in this adulterous and sinful generation, the Son of Man will also be ashamed of him when He comes in the glory of His Father with the holy angels. " Mark 8:36 - 38.
Unter
Schedule
findet man, wo Sam Rotman in den Vereinigten Staaten kreuz und quer durch die evangelikale Szene unterwegs ist.
Da stellt sich dann doch die Frage, was die im Jüdischen Museum tätigen gut bezahlten Menschen, die Veranstaltungen organisieren, tun - und vor allem, wo sie ihre Augen haben oder auch nicht.
Nachtrag 8. April:
Wie in den Kommentaren bereits von Chajm bemerkt, wird das Konzert nicht im Jüdischen Museum Berlin stattfinden
.